Washrooms in public facilities such as schools, municipal buildings, stadiums and retail shopping centres are more likely to suffer from vandalism.
Dubai-based Fragrance Delivery Technologies Ltd's new Oxy-Gen Powered Shield Anti-Vandal Air Freshener will be making its European debut at ISSA/INTERCLEAN Amsterdam. Hydros Jassem, Managing Director at Fragrance Delivery Technologies Ltd, bought the patent from the US and developed a fuel cell based product for 'precise' fluid delivery in Dubai. FDT has commercialised a fuel cell based air freshener. Jassem started Fragrance Delivery Technologies(FDT) in 2007. "Fragrance Delivery Technologies is selling products in over 12 countries including the Middle East, South Africa, Australia, China and India. We're keen on the USA and Europe markets. Our product has been shortlisted for innovation award at the ISSA show in Amsterdam and the ISSA show in Chicago," says Jassem.Shield is the only anti-vandal dispenser that has been designed with style and protection in mind.With a true 60-day refill technology, it is the world's most eco friendly air freshness system that delivers fragrance continuously with 100 per cent recyclable refills.
The smooth contoured design makes it difficult for vandals to grip and tamper with the dispenser, particularly when positioned at a height. It is made of robust stainless steel for added strength and comes in a variety of colours to suit each room and décor. Both Shield and Viva!E, the stylish dispenser, operate silently using a patented oxygen generator that generates pure oxygen to release fresh fragrance continuously. With a consistent intensity, it lasts the full refill cycle of 60 days, and each dispenser covers an area of up to 3,000 square feet effectively. Instead of the old aerosol or spray technology Viva!E works on the patented Oxy-Gen Powered technology, a new medical-grade innovation that harnesses the power of pure oxygen to deliver consistent ambient fragrance. Since the refills are not aerosol cans, they do not contain potentially harmful propellants or solvents. The refills are VOC compliant and meet the EU, REACH and CARB regulations.
Salient features
No harmful emissions, solvents or propellants
• Low VOCs, meaning it is ideal for green buildings and LEED certification requirements, reducing the amount of VOCs being emitted by up to 90% when compared to aerosol cans
• The refill is 100% recyclable and safe to dispose of in your regular plastic recycling waste
• Less waste, safer storage
• It works against gravity so that the fragrance oil doesn't pool or leak
Consistent FragranceLevels –Guaranteed
The Oxy-Gen powered technology is designed and engineered to deliver consistent and continuous levels of fragrance and odour control for the full life of each refill. The unique Oxy-Gen Powered refill delivers precise doses of intense scent with no variation on delivery or drying out. As the technology has been adopted from a pharmaceutical system used to administer regular, accurate doses of medication to patients in difficult circumstances, the system is extremely reliable, safe and effective. The LED works like a traffic light ; if the light flashes green, the system is working fine, if it's orange, the re-fill needs replacing, while a red light indicates that the battery needs to be changed. It takes away the hassles and hazards of any washroom environment, with minimal effort for the cleaning teams too – simply look to check if the green light is flashing, and you know it is still working. However, with refills lasting for 60days and two AA batteries lasting for18 months to two years, it's safe to say that the cleaners find the product easy to handle. Jassem said: "A fresh and pleasant smell is an indicator of a clean facility. The smell reflects an overall impression of the establishment, and Viva!e , and now SHIELD, is the only TRUE 60 days product which promises a round-the-clock fresh smell."
Create The 'WOW' Factor
The Air Freshness system emits an intenselyscented fragrance to create a permanently fresh environment that has an impact every time you walk into the room. Most air fresheners work by masking bad odours with a heavy perfume, but the Oxy-Gen Powered system uses Neutra-Lox, a proprietary odour neutralizing agent, to eliminate, not mask, any bad odours, leaving only a fresh scent in the air. The 26 fragrances have been selected for their intensity; each has been extensively tested for performance over the refill life, and also field tested for popularity and appeal. When the fragrance molecules are released, they diffuse into the air in the room; the proprietary Neutra-Lox odor neutralizer molecules eliminate competing malodor molecules, allowing the fresh scent to spread out and fill the surroundings where they linger in the air. Neutra-Lox eliminates intensely strong odours such as tobacco, kitchen odours, sweat, mildew, animal and body odours. Compact, contemporary and available in a choice of colours, the Viva!E Air Freshness dispenser will complement any room – from luxurious lounges to working washrooms. Plus, being simple to install and refill, the Viva!E Air Freshness system fits easily into a maintenance schedule.
Consistent ambient fragrance
Viva! E outperforms all other air care systems. The fragrance from metered aerosol systems is initially strong, but fades quickly between each spray. Fragrance from gels and liquid products evaporate quickly because they are designed to be open to the environment. The performance of passive systems that rely on gravity to disperse fragrance, and other active continuous fragrance systems, depends largely on the environmental conditions and is not guaranteed to work every time, all the time. With Viva! E the fragrance intensity is consistent and continuous throughout the refill life. The dispenser can be set to 30 days setting for Booster Intensity or 60 days setting for everyday intensity. To see the Oxy-Gen powered Technology in action, visit them at the ISSA Interclean Amsterdam, May 6-9 at stand 11.149 or visit www. oxygenpowered.com for more details.
About Fragrance Delivery Technologies
Fragrance Delivery Technology (FDT) was formed in 2007 with its operational headquarters in Jebel Ali Free Zone Authority (JAFZA), Dubai.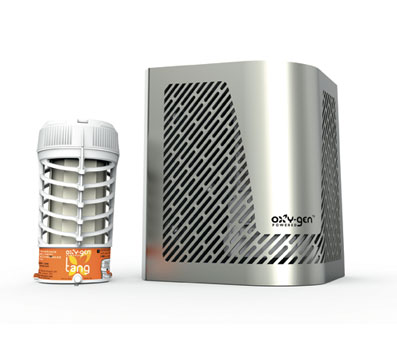 The company has been established to manufacture and sell odour control systems for 'Away From Home Washrooms'(AFH), offices, hotels, lobbies, reception and other public areas, using patented Oxy-Gen Powered fuel cell technology. The company is seeking partnership with industry leaders and entrepreneurs in the AFH distribution and the health sector supply chain worldwide, and is actively building channels with service companies and distributors in key markets.